Hospitality Service: Special Agreements
Special Agreement with NH Hotels fieramilano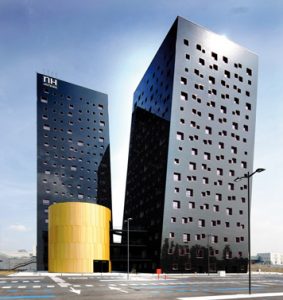 Thanks to the agreement with NH Hotels, the Exhibitors of 31.BI-MU will have the opportunity to take advantage of promotional rates for their accommodation at Hotel NH Milano Fiera located near the Exhibition Centre. BI-MU Organisers, through MiCodmc, is able to offer a wide range of travel, transfer and accommodation packages at special conditions.
Exhibitors' Loyalty Rate: minimum stay 4 or 5 nights according to the selected package. A 20% non-refundable guarantee deposit is required; the balance payment shall be made at the check-out. Cancellation policy: until 14 days before the arrival, possibility of cancellation without penalty, while maintaining the minimum stay and guarantee deposit.
Loyalty Rate for Stand Assemblers: Half-Board Package, payment at the check-out, possibility of cancellation until 4 p.m. on the arrival day. Minimum stay: 2 nights.
Loyalty Rate Meeting: the hotel puts at the disposal of the Exhibitors of 31.BI-MU/SFORTEC INDUSTRY its meeting and conference rooms at special discounted prices. Minimum stay: 3 days.

Other Hotels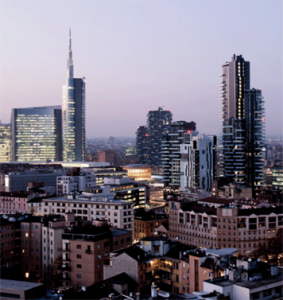 Several special agreements have been activated with hotels located in Milan or near the Exhibition Centre. Due to the high demand for this event, we recommend that you should make your reservation as soon as possible to obtain your favourite option.

For more information and support, write to bimu2018@micodmc.it

Check availability and book here now!

Tickets and transfers
Book your travel and your transfer in Milan with MiCodmc. Take advantage of our partnership with Lufthansa Group!

Thanks to the partnership with the Lufthansa Groups network, you will enjoy special offers!

Lufthansa Groups Airlines & its partners Air Canada and United Airlines offer a global air flight service connecting the main cities of the world.

To book, click here and enter the access code ITZJESX into the section "Access to Your Special Lufthansa Offer": the booking platform will automatically calculate your discount or propose you the best offer available.

NB: To display the Booking Box, Pop-ups must be enabled.

Promotional rates are also available at MiCodmc's travelling. For any problem, do not hesitate to contact us.
MiCo's Official Airlines – Discover special airfares

To reach BI-MU, visitors and exhibitors will be able to buy tickets "le Frecce" of Trenitalia and NTV by getting in touch with MiCodmc at bimu2018@micodmc.it

 
Tour events and on-site assistance
MiCodmc offers tours and excursions, allowing you to experience the city and its surroundings in a very special and unique way through the choice of cultural classical visits, unusual itineraries and shopping tours. Discover the attractions of Lombardy and organise your itineraries with MiCodmc.
If you wish to organise a private event or a dinner for your guests, MiCodmc will be pleased to help you in organising everything in the best way, creating special proposals for any budget and number of guests.
MiCodmc is at your complete disposal to offer you all services you may need. For more information or to ask for an estimate, please write to bimu2018@micodmc.it.
To have more information about MiCodmc and discover all services offered, you can refer to the website www.micodmc.it