CROWN | ESR 1000 reach truck wins IFOY Award 2020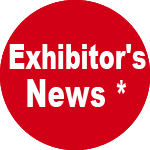 CROWN – Hall: 11 – Stand: E46
The new Crown ESR 1000 Series reach truckhas won the International Intralogistics and Forklift Truck of the Year (IFOY) Award 2020 on the back of multiple innovations for boosting productivity, connectivity and operator safety.
"Decisive factors for the jury's decision were the innovations in the areas of sustainability, ergonomics and safety, which are consistently geared towards high customer benefit, as well as the performance values of the truck. Particularly outstanding are the Xpress Lower Technology, which can double the lowering speed, and the energy-saving regenerative lowering", explains Anita Würmser, Executive Chairperson of the IFOY Award Jury.
The ESR 1000 Series offers innovative technology paired with new, intelligently connected features in the Gena operating system that provide operators a data-rich user experience, enabling them to work precisely at any height without compromising productivity.
The Xpress LowerTM technologycan double the mast-lowering speed to 1.1 m/s. This speed is unique in the market, enabling up to 21 percent more productivity overall. Far from consuming extra energy, the energy released during the lowering process is fed back into the battery. In combination with the ESR 1000's regenerative braking system, this can result in energy savings of up to 11 percent.
Operators and warehouse managers, as well as service and safety managers, all benefit from Crown's new Gena operating system, making its debut in the ESR 1000 Series. The system is intuitive, customisable and interactive, offering a new and engaging operator experience. A 7-inch colour touchscreen allows the operator to choose from a growing range of widgets in 25 languages, displaying key forklift functions and assistant systems such as rack height selection and residual capacity warnings. The new Gena operating system optimises the forklift's performance ­and makes crucial information easy to see, understand and use, helping operators to boost their productivity.

* The published news is edited by exhibiting companies. Exhibitor assumes responsibility for what is published in his own page.