CROWN || New V-Force lithium-ion technology
News Green&Blue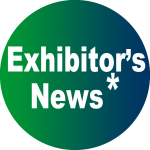 CROWN – Hall: 11 – Stand: E46
Crown has launched its own V-Force® branded solutions for customers seeking to improve forklift performance by using lithium-ion technology. Crown's V-Force Energy Storage Systems (ESS) include batteries and chargers and are now available for Crown's entire forklift truck portfolio.
For fleet managers, the ability to rely on one trusted supplier for both forklift trucks and battery technology is essential. To provide customers with a top-quality, single-source service dedicated to lithium-ion technology, Crown has now launched its own V-Force batteries and chargers.
Lithium-ion systems offer considerable advantages over lead-acid batteries, especially in multi-shift operation. Routine battery maintenance is no longer necessary, and batteries no longer need to be changed or watered. Because lithium-ion batteries do not produce emissions while recharging, separate battery-charging rooms are no longer required. In short, the batteries' increased efficiency and lower service costs over time result in significant advantages for customers.
Crown's V-Force batteries are designed to meet automotive standards in terms of extreme safety and ease of use, thus offering more capabilities than many other lithium-ion batteries on the market. Each battery features a multi-level safety architecture incorporating a variety of fuses plus single-cell temperature and voltage monitoring. Safety systems help protect against overheating, short circuits, overcharging or deep discharging.
Crown's V-Force V-HFB Series high-frequency chargers deliver the power your lithium-ion energy storage system needs. The performance of the Crown chargers is excellent thanks to the fast charging process. V-Force chargers can fully charge batteries with capacities of up to 400 Ah in less than 60 minutes by delivering a steady charging current of up to 400 A. These figures are among the best in the industry. The user-friendly chargers automatically detect battery voltages ranging from 24 to 80 volts.

* The published news is edited by exhibiting companies. Exhibitor assumes responsibility for what is published in his own page.