FANUC | Tomorrow's Factory is Connected, Collaborative and Smart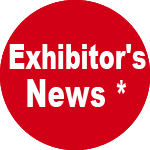 FANUC – Hall: 11 – Stand: D20 / E21
FANUC, the factory automation specialist, enables every industry to successfully transition to Smart Production. With its portfolio of innovative factory automation products and solutions, FANUC is at the forefront of supporting manufacturing companies in the transition to more efficient, intelligent, digital and sustainable production. The foundations of Factory 4.0: Connectivity, Collaborative Robotics and Artificial Intelligence will be under the spotlight at the exhibition.
The brand new range of FANUC CRX collaborative robots is safe, versatile, quick to install, easy to use, can be programmed directly from the tablet and comes equippedwith useful artificial intelligence functions. All these features will certainly impress even small business and laboratory owners. Two models are currently available: CRX-10iA and CRX-10iA/L, both with a payload capacity of 10 kg and reach of 1,249/1,418 mm (L). Machine tending is easy and immediate even for companies that have no previous experience in robots, thanks to the availability of the QSSR – Quick and Simple Startup of Robotization software package. This scenario fully implements the ONE FANUC ecosystem, where machine tool, CNC system and robot share the same programming environment and integrate perfectly.
FIELD (FANUC Intelligent Edge Link & Drive) is FANUC's IIoT platform for local analysis of production data. It is a secure (on edge) and open system (supporting OPC-UA and MT-Connect protocols) based on artificial intelligence applications, and offering an unprecedented degree of freedom: users can decide whether to keep data locally or send it to the cloud, how many and which applications to use, customise and develop their own applications in-house. FIELD collects data from all machines and devices, including those of different manufacturers and previous generations. In this way, all data relating to the entire production process is available in real time, with the aim of making accurate predictive maintenance forecasts and optimizing the efficiency index of factories.

* The published news is edited by exhibiting companies. Exhibitor assumes responsibility for what is published in his own page.