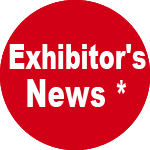 ITEM – Hall: 13 – Stand: B31
Precision from the first second! item servomotors with absolute encoder don't require a homing run each time the system is started up. A homing run is only carried out during initial set-up.
The integrated capacitive multiturn absolute encoder helps the Controller keep track of how many revolutions there have been on the motor shaft as measured in relation to the set zero point. Consequently, the system always knows the position of the carriage. The measured value is available immediately after activation because the position is safely stored in the Motor. This speeds up the start-up process for a machine and means users can expand their system with structures that feature a difficult-to-reach homing point.
item Motors SE AK are available in three sizes (40, 60 and 80 mm) that are precisely configured for Gearboxes and Drive Sets in the item Automation System. The servomotors are highly dynamic and the combination of colour-coded plug-in connections and item Power and Data Cables ensures the Motor can be quickly and reliably linked up to the Controller.
Motors SE with absolute encoder use Data Cable AKSC (available in lengths of 5 or 10 metres).
The abbreviation AK in a product name indicates that the motor in question uses a capacitive absolute encoder. The servomotors are also available with a holding brake (indicated in the product name by the letter B). The following models are available:
Motor SE 40-035-3-90-AK
Motor SE 40-035-3-90-AK-B
Motor SE 60-150-3-60-AK
Motor SE 60-150-3-60-AK-B
Motor SE 80-350-5-55-AK
Motor SE 80-350-5-55-AK-B
item Motors SE are also available with a resolver. You can select the design as appropriate to your application. Both Motor variants are supported by item Controllers and item MotionSoft® commissioning software.

* The published news is edited by exhibiting companies. Exhibitor assumes responsibility for what is published in his own page.