ROSE PLASTIC | The improvement of a packaging known all over the world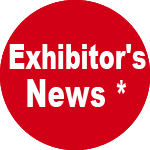 ROSE PLASTIC – Hall: 15 – Stand: F75
For the 31. BI-MU edition, rose plastic wanted to put the attention on a new packaging for cutting tools.
During the 70s rose plastic introduced TwistPack: a plastic packaging with the shape of a tube. In this way, rose plastic has revolutionized the market of packaging.
Customers are enthusiastic about protection, transport safety and the easy use the packaging offers for products with cylindrical shape like drills and milling cutters.
Since then rose plastic became the global protagonist in the plastic packaging market, supporting customers locally with the Italian subsidiary.
The last project of our R&D team is to develop TwistPack, one of the best-selling product with cylindrical shape: a very challenging task.
Our experience, customers' tips and deep functional analysis have revealed in which areas would have been possible to refine the product; this is how TwistPack Plus was born.
TwistPack Plus revolution consists in the closures system completely renovated which combines different advantages: easy and quick opening and closure, telescopic length regulation with the new locking system, which guarantees a safety closure with a serrated thread system.
The result is impressive and once again, it shows us that also a good and tested solution could get even better.
TwistPack Plus is available in the following materials: PE, PP and PVC. Sizes start from 50 mm length and end up with 500 mm, up to 105 mm diameters.
The product will be available in stock in PP transparent; on request it could be provided in our materials and standard colours or in new personalised colours according to our customer's needs.

* The published news is edited by exhibiting companies. Exhibitor assumes responsibility for what is published in his own page.