UNIVERSAL ROBOTS | e-Series Italian premiere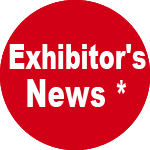 UNIVERSAL ROBOTS – Hall 13 – Stand: C34
BI-MU, the reference fair for the machine tool sector, will be the Italian stage of a long "road show" that, started last June at Automatica in Munich, saw Universal Robots showcase its technology – the new cobot e-Series – all over the world.
e-Series is a family of 3 new cobot – UR3e, UR5e, UR10e – with a of 3, 5 and 10Kg and reach between 500 and 1,300mm. The 3 cobot differ from the "classic" products already on the market for a series of new features.
Even easier and more intuitive programming
e-Series offers a new graphic interface, more intuitive and aesthetically improved, which allows a simplified programming flow. The teach pendant has also been improved.
Immediately operational
The simplicity of programming is combined with the immediacy of commissioning: in a few hours it is possible to start up a cobot e-Series, connecting it to a standard 220V socket. The new raised base also allows greater ease in assembly and disassembly on the chosen surface of installation.
Flexible and sinuous
As with any cobot UR, e-Series is characterized by lightness and compactness that allow these cobots to be installed in any position and to be easily moved within the production layout.
Safe and collaborative
e-Series has 17 safety functions, two more than the classic range, that is the customization on time and the stopping distance, which are added to a force / torque sensor integrated in the sixth axis; all elements that make the UR collaborative robot even more "sensitive" and safe.
Roi, Roi, Roi
Flexibility, ease of installation, start-up and programming that characterize the cobot UR allow to reduce the costs normally related to the programming and use of hardware and software elements, such as fences. e-Series is therefore very suitable for SME companies that now can exploit a robotic technology platform to automate their production processes simply, quickly and with great flexibility, with a very quick return on investment. Indeed: the fastest in the industry.

* The published news is edited by exhibiting companies. Exhibitor assumes responsibility for what is published in his own page.