RobotHeart
Interview with Leonardo Leani
ABB ROBOTICS ITALIA
" …RobotHeart the event that was missing in Italy now exists… "
Leonardo Leani Local division Manager ABB ROBOTICS ITALIA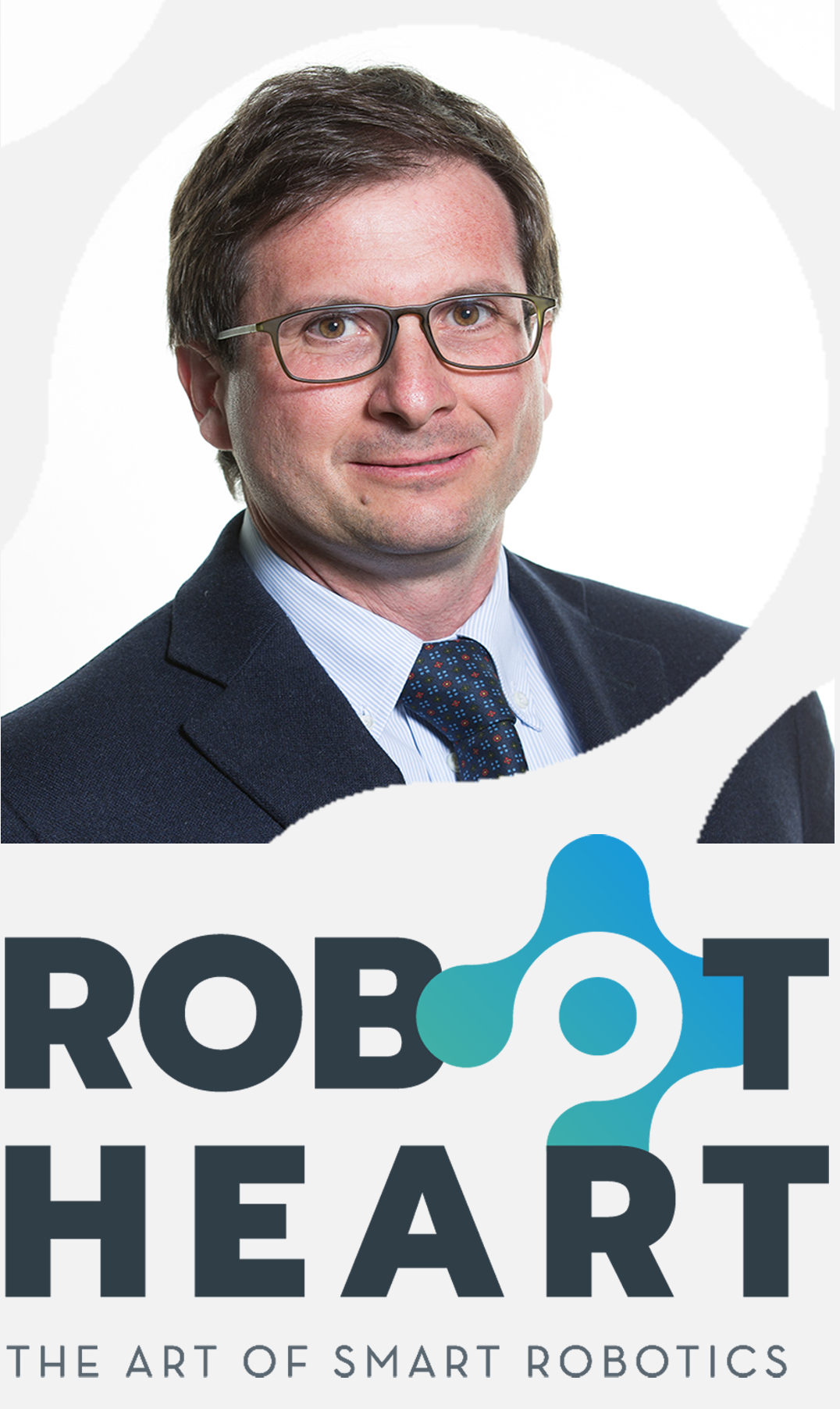 ABB will participate in RobotHeart, the new exhibition area dedicated to the world of robotics at 33.BI-MU, scheduled to take place in October 2022. What convinced you to take part in this initiative?
We decided to participate in the initiative with enthusiasm, because RobotHeart is the first event in Italy entirely focused on the world of robotics, as it really involves all stakeholders: manufacturers, integrators, start- ups, academics and research centres linked to robotics.
We like the idea to be among the key players of a clearly visible exhibition area intended to make the most of its exhibitors and products at 33.BI-MU, which has always been visited by a large audience representing almost all manufacturing sectors. We also like the idea that this year it will take place in conjunction with Xylexpo, the biennial world exhibition for woodworking technologies and components for the furniture industry, held in the adjoining halls.
Adding up the number of people expected to visit these two tradeshows, there is a potential of about 100,000 visitors, of whom many are from abroad, searching for solutions to streamline their production sites. They will be able to see first-hand the best robotised solutions in operation. Therefore, there will be a public of great interest for companies like ours, which can observe a wide synergy in the combination of these two exhibitions. Moreover, among the advantages, there is certainly a special attention dedicated to technical-scientific aspects.
Then, let us talk about the cultural and thematic aspect….
Built in this way, RobotHeart will be much more than an exhibition area. With technologies, applications, conferences and in-depth discussions, it is intended as an event conceived to support the development of the "Factory of the Future", where robotics and automation play an increasingly crucial role.
The relevance of the cultural dimension is also enhanced by the support of important partners involved in the project: UCIMU, the Association representing the Italian manufacturers of machine tools, robots and automation systems; SIRI, the Italian Robotics and Automation Association, and I-RIM, the Institute established to foster the development and use of robotics and intelligent-machine technologies.
ABB intends to be on the front line in this innovative project.
ABB was indeed one of the companies that expressed to EFIM, the organiser of BI-MU, its need for such an exhibition area, as that of RobotHeart. Therefore, what do you expect from this event?
We expect that ¬RobotHeart may become an international meeting-point for robotics and all the technologies revolving around it.
On our part, we will present our complete range, including all types of robots, i.e. industrial, collaborative and Autonomous Mobile robots. We want to focus on the development not only of new products, but also of new solutions in support of the so-called "Flexible Factory".
How will ABB exhibit at RobotHeart? Do you already have an idea of the space, technologies and applications that you will show at the tradeshow?
As mentioned, today more than ever, the product offering of ABB includes all the necessary solutions to create a flexible factory, proposing the different types of robots, cobots, Autonomous Mobile Robots and components for automation systems with the brand of B&R, a part of the ABB Group. We will highlight the extreme user-friendliness achieved by our robots, which makes it particularly convenient to employ them in the SMEs for applications in all sectors, (metals, plastics, food&beverage, logistics, automotive production chain, biomedical products, etc.).
The presence of ABB at RobotHeart will be characterised by a vertical/horizontal approach: besides the latest technologies, some demonstration islands will be proposed, with several high value-added applications, for various industrial uses with specific attention to Human-Robot Interaction.
ABB is an international brand, undisputed leader in the sector of robotics and automation. What do you think about the present economic situation and what are the expectations for the next two years in Italy and abroad.
The demand for flexible automation is constantly growing. Quality, rapidity of execution and mass customization impose a paradigm change in the enterprises that wish to face successfully the challenges dictated by the current macro-trends. Robotics is the answer: robots ensure a significant competitive advantage, whether they are industrial, collaborative or mobile.
The continuous and unstoppable growth of robotics is confirmed by the latest report of IFR (International Federation of Robotics), issued at the end of 2021, which certified an increase in the sales of robot units worldwide even in 2020. With 8,500 new installations, Italy confirms its sixth place in the world ranking with a remarkable density of robots installed in the general industry. After all, Italy also stands out for its peculiar entrepreneurial fabric, mainly composed of small and medium-sized enterprises, as well as of integrators and machine manufacturers, who make the excellence of their innovative solutions more and more appreciated and enable their continuous development all over the world. If once it was difficult for the SMEs to reconcile their activities with the world of robots, today the situation appears reversed. The development of collaborative technology and its user-friendliness have made robotics accessible for these companies, which can take advantage of their peculiarities to meet the requirements of an increasingly demanding market in terms of quality, flexibility and costs.
Among the fields of application, what are the most interesting innovations regarding ABB's world?
ABB made considerable investments in innovation applied to the robotic area for all markets of reference, such as assembly and collaborative machine-tending, integrated solutions for the logistic and food sector, (issue of logistics, intended both for warehouse distribution centres, but also as intra-logistics within enterprises, between warehouses and production sites), mobile robotics, innovative solutions for Outsourcing Service activity through digitalisation, monitoring, predictive diagnostics and optimisation of robot performances by application of machine-learning solutions.
Collaborative robots are among the technologies that mostly affect work. Would you like to give us your comments about how work is changing within manufacturing enterprises? Could you reveal in advance, what we will see at BI-MU?
It is clear now that in the countries that invested more in automation and robotics, employment has increased. For this reason, I think it makes sense to speak about integration more than about replacement. Human beings are and will remain at the centre anyway, as it will always be necessary to have someone capable of managing robots and instilling an appropriate dose of creativity in each project. The real issue is the mismatch between supply and demand in jobs: the professional skills linked to the management of technologies related to robotic automation are insufficient. Our customers are struggling to find technicians with adequate competences. Therefore, we have been long engaged on the front line in the world of professional education. We support the institutes of professional education and training by supplying them with material to be used in teaching activities and we grant universities access to our Robotics Technology Center for their most evolved projects, in order to offer the most appropriate tools to nurture the technical specialists of the future.
Artificial Intelligence is already used in many fields of the production world. Would you tell us how this technology is developing and to what extent it is employed in automation and robotics solutions? Even in this case, will we see something special at RobotHeart?
Nowadays, the robotics and AI technologies are converging and enabling a large number of new applications. Systems based on machine-learning and reinforcement-learning are already used for object identification, voice recognition of commands, programming based on self-learning and autonomous material handling within production sites.
See you at RobotHeart, then!