RobotHeart
Interview with Marco Delaini
FANUC ITALIA
" …with RobotHeart, BI-MU takes a further step forward, by opening up to the world of robotics. We liked this idea a lot… "
Marco Delaini CEO FANUC ITALIA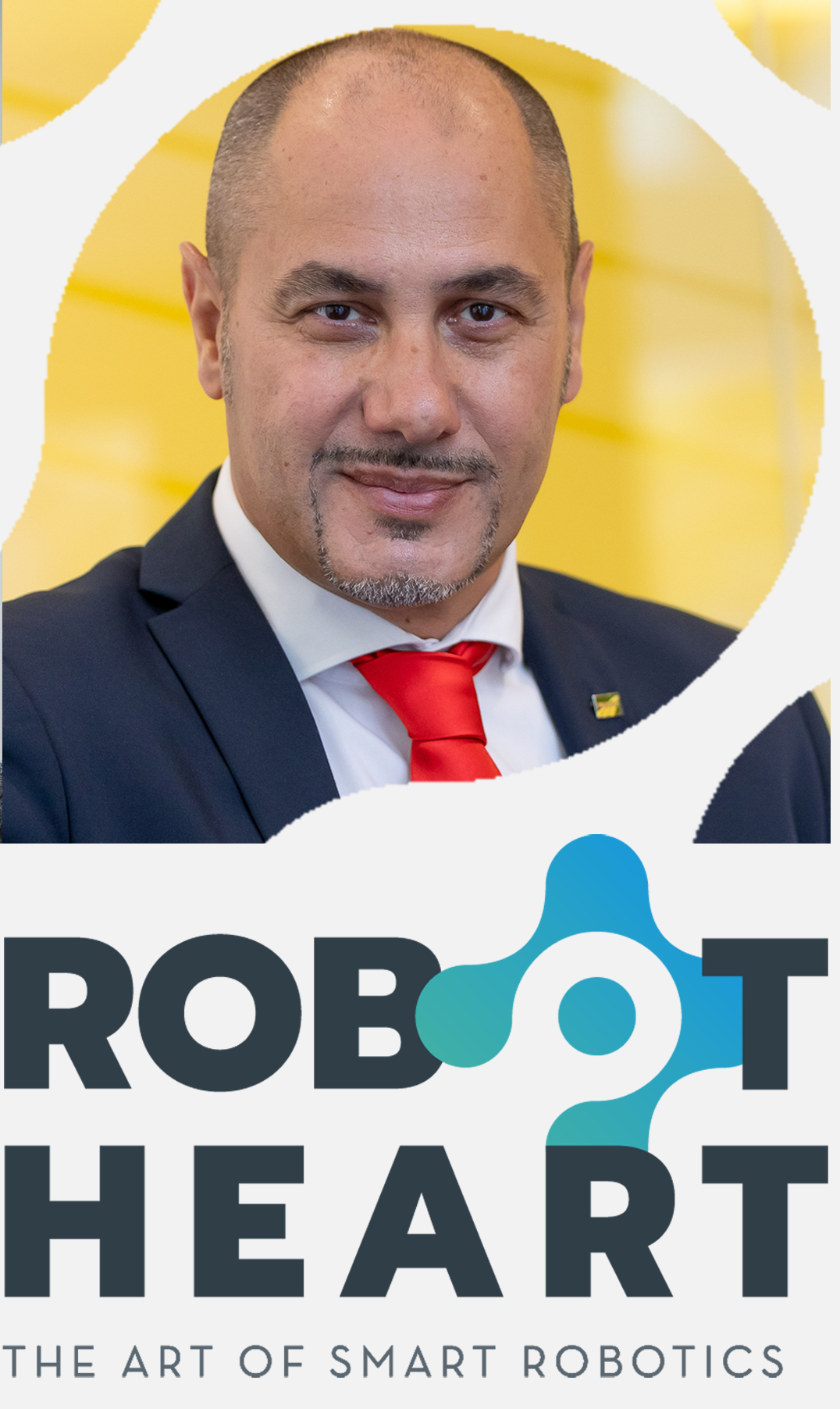 FANUC is an international brand, undisputed leader in the sector of robotics and automation. What do you think about the current economic situation?
The long-awaited recovery came in 2021, but for FANUC it had already started in the second part of 2020. As usual, China led the way, but then Europe was able to keep up and, in particular, Italy accelerated, actually overtaking other European economies.
The Italian entrepreneurial capacity stood out worldwide, especially that of SMEs. Our resilience enabled us to close a record-breaking 2021 and 2022 will also be a year of growth.
What are the expectations for the next two years in Italy and worldwide?
I think that worldwide, some economies, among which China, may experience a period of adjustment, whereas there will be others characterised by expansion, especially in the Eurozone.
Surely, the 'Next Generation EU' Plan, for Europe and the 'Transition 4.0' Plan, for Italy, will keep on boosting investments, supporting the demand, which will certainly remain strong for the next two years. After the end of 2023, we do not have big certainties, but we know that the megatrends – such as sustainability, transition to e-mobility and digitalisation – will push the countries of the Old Continent towards a process of complete and constant industrial transformation, which will imply considerable investments in new production technologies.
At FANUC, we have started several investment plans and in the next two years, we will see many novelties in all our divisions, FA, RO, Robomachines and IoT. We are confident that 2021 has just been the beginning.
FANUC will participate in RobotHeart, the new exhibition area dedicated to the world of robotics at 33.BI-MU, scheduled to take place in October 2022. What do you expect from this event?
For years, FANUC has taken part in BI-MU with its ONE FANUC "profile", thus presenting integrated automation solutions that benefit from our experience in the sectors of CNC machine tools and robotics.
Today, with RobotHeart, BI-MU takes a further step forward, by opening up to the world of robotics and to all sectors of application: therefore, it will no longer be an exhibition of single technological solutions, but of real complex and integrated systems. These systems are and will increasingly become the driving force of digital factories. We liked this idea a lot and we immediately decided to participate and support the initiative.
With these premises, we are confident that RobotHeart of BI-MU will become an unmissable point of reference for the operators all over the world to observe unique solutions first-hand, i.e. the maximum expression of the "Italian character" in the field. If all of us can achieve this goal, we will offer a great contribution to the growth and development of this new exhibition project, by granting it a considerable competitive advantage, compared with other numerous events scattered everywhere. With its great expertise in mechatronics and automation recognised worldwide, Italy deserves to have an exhibition of reference dedicated to robotics.
How will FANUC exhibit at RobotHeart? Do you already have an idea of the space, technologies and applications that you will feature at the trade show?
FANUC will take part in RobotHeart with a focus on new technologies. We intend to act as a sort of flywheel for all those companies that wish to invest in the technologies of the future, because only in this way, they can be competitive and successful. What is clear for us in our mind is that, together with our partners, we will exhibit only innovative solutions at RobotHeart.
Flexibility, innovation, digitalisation and integration are our objectives; we expect to find companies and partners having a similar approach towards what has "not yet been seen" or, even better, what has "not yet been designed". Our range of robots allows us to offer all kinds of applications, but we will be selective!
It would be too easy to focus on what we currently manufacture. We intend to show and demonstrate how far we can push innovation at the service of the manufacturing industry, while considering sustainability and waste reduction of all tangible and intangible resources as established and inalienable objectives. Indeed, these will be the pillars, on which the economic policy of the European Union will be built in the next decades.
Among the fields of application, what are the most interesting innovations concerning the world of FANUC?
We will start with the current megatrends; we will talk about digitalisation of factories in the machine tool sector and about how these functions allow to have a positive impact, even from an environmental point of view thanks to Digital Twin and AI functions, which enable to optimise process parameters automatically.
We will show our complete functions for Quick and Simple Start-up of Robotization, with demonstrations of robotic applications directly controlled by CNC. We will involve our partners with regard to the most innovative applications and user-friendliness of robots with Easy-Teaching functions. We will involve the Education system with dedicated solutions.
Collaborative robots are among the technologies that mostly affect work. Would you like to give us your comments about how work is changing within manufacturing enterprises? Could you tell us something in advance, about what we will see at BI-MU?
Collaborative robots meet a specific market demand and find their place within flexible factories, where they are used in manufacturing operations to help humans in their work.
There are no limits to their employment, except for high-productivity activities, which are instead carried out by industrial robots, capable of ensuring reduced cycle time.
Therefore, cobots are used in all the situations where production concerns small batches to support human work in a simple, intuitive and safe way, taking over the heaviest and most repetitive tasks of human operators. Owing to these features, they are particularly suited to meet production requirements, even highly customised ones, such as those typical of Italian SMEs, where a collaborative robot represents a tool used by operators to work in a more agile and safer way.
What we will see at BI-MU will be their easy integration, flexibility and safety in operations where the technical expertise of human beings becomes essential to programme their activities.
Artificial Intelligence is already used in many fields of the production world. Would you tell us how this technology is developing and to what extent it is employed in automation and robotics solutions? Even in this case, will we see something special at RobotHeart?
We have spoken about flexibility, digitalisation and innovation, where artificial intelligence plays a key role along with increasingly advanced vision systems, sensors, predictive techniques and factory control systems.
For years, FANUC has been manufacturing machines and robots based on AI, integration and data exchange among systems. It is the evolution we expect and it will be clearly visible in the solutions we will present at RobotHeart.