RobotHeart
Interview with Gloria Sormani
UNIVERSAL ROBOTS
" …RobotHeart represents an excellent image operation to underline to industry operators, but also to public opinion, the solidity of this variegated segment and the growing importance it is assuming in most manufacturing sectors… "
Gloria Sormani Country Manager UNIVERSAL ROBOTS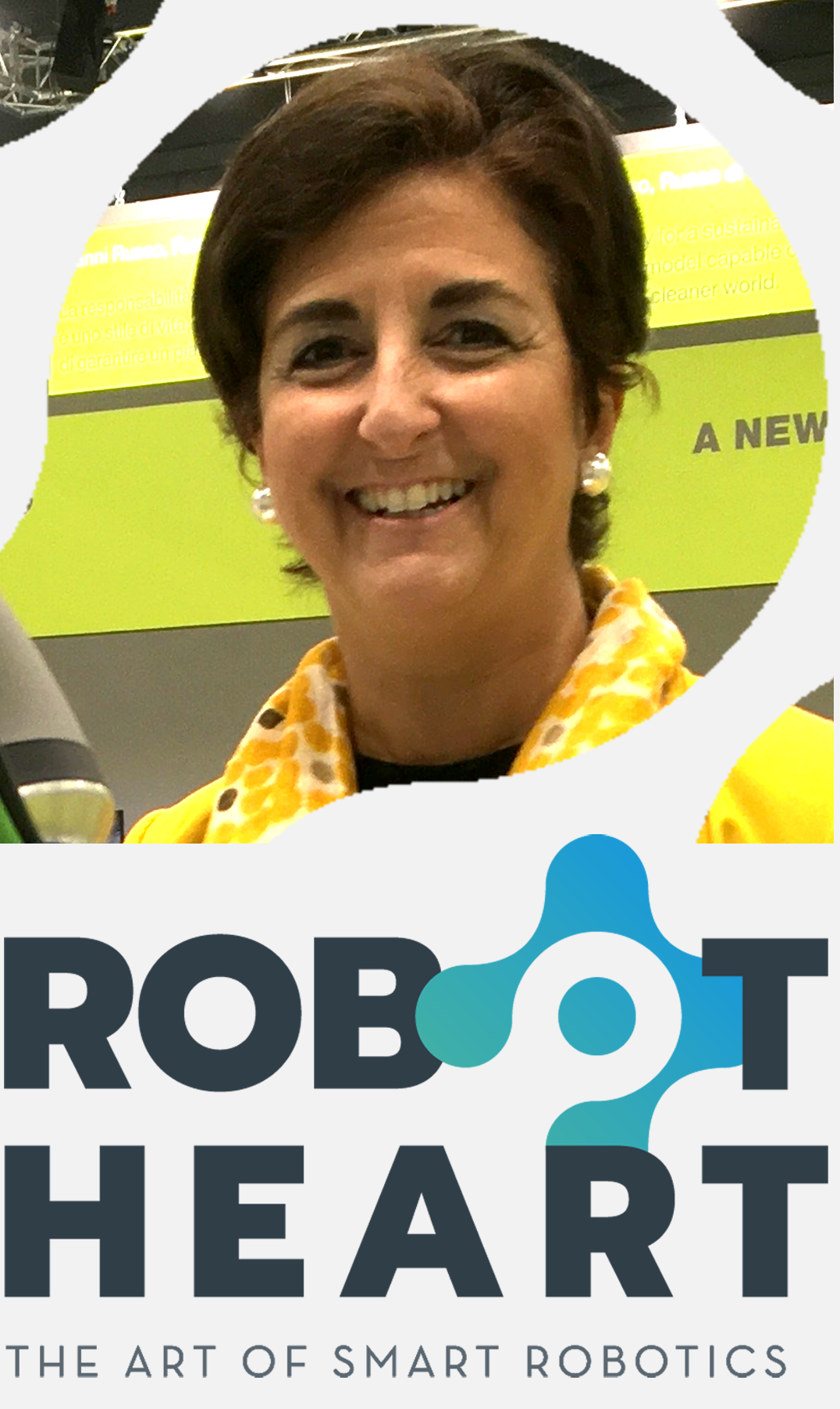 Let us start from your company. Universal Robots, leader in the production of cobots, will take part in RobotHeart, at 33.BI-MU
Universal Robots is the inventor of the collaborative robot. Established in 2005, the Danish company presented its first model of cobot in 2008 and from that moment on, it never stopped. To date, more than 50,000 robots have been sold worldwide. With the growth of business, UR kept on opening new branches and premises all over the world. Since 2018, it has established an Italian branch in Turin, even if the brand had been already present in Italy since 2016 and sales had already started in 2009.
With these makings, considering the content of the exhibition, the specific character of the new initiative called RobotHeart and the context where it takes place, we immediately decided to participate. After all, we are certainly not newcomers, as we already took part in the previous editions of BI-MU, in 2018 and in 2020.
What do you expect from your participation?
We expect a lot in terms of contacts and visibility for two reasons linked to the specific content of this 33rd edition of BI-MU. We immediately showed a great interest in this edition, as soon as the organisers announced that BI-MU would take place in conjunction with Xylexpo. Besides the visitors connected to the world of metalworking, represented by the biennial machine tool exhibition, we can also rely on the public of Xylexpo, the biennial exhibition for woodworking technology, which will be held in the halls nearby. An excellent opportunity for us the exhibitors, because we can reach a much wider customer base. Moreover, the creation of RobotHeart, a special area dedicated to the world of robotics, is a big step forward for our sector.
Tell us more…
The fact that a specific area, RobotHeart, has been finally dedicated to the sector of robotics, with a recognised brand promoted by the organisers of the event, as well as by its stakeholders, represents an excellent image improvement operation. It highlights the soundness of this varied segment, showing the operators of the industry and the public opinion the important role it has been playing in many manufacturing sectors and the big development opportunities it brings.
Let us talk about the development that robotics and automation generate within manufacturing factories
At our company, we are used to saying "A cobot enables humans to work with a robot and not as a robot". In practice, a cobot helps operators, replaces them in low added-value and repetitive tasks – in a different time, we would have defined these activities as alienating – as well as in high-risk or exhausting tasks. Therefore, a cobot directly affects the quality of production, improving working conditions in compliance with the criteria of ergonomics and safety and having an impact on a company's outcome in terms of productivity. The market has understood this, because our results are really positive.
Which are the most dynamic markets? How is the situation in Italy?
The year 2021 was the best ever for Universal Robots. We had a double-digit growth in all major markets. With reference to our continent, excellent performances were registered throughout Southern Europe and especially in Italy. Germany also reported good results. In Italy, cobots are now widely adopted in a structured way across many industries. Today, this allows us to invest even in innovative sectors ranging from the textile and fashion industries to the wide world of machinery manufacturers, who use cobots as flexible tools, suitable to meet their needs. The world of production systems is a sector in which we have always been very interested and for which cobots have already widely proven their usefulness and efficacy of application. The adoption of our cobots for piece loading on lathes, as well as on injection presses, just to give a few examples, have given outstanding results. This is due to the need to reduce processing times, minimise production stops and downtime. In few words: our solutions contribute to improving the productivity and profitability parameters in the enterprises that adopt them. In which way? Reduction of cycle time, optimisation of machinery use (as cobots enable a steady pace, for example on a press or a lathe), better machining quality and thus less waste.
We talked about the world of machine tools. Which other user sectors are particularly interesting for you?
Besides metalworking and woodworking machine tools, we can mention sectors such as packaging, palletising, automotive and sub-contractors for welding and deburring operations, but also other unusual ones, e.g. fashion, as already said.
How are your cobots used in the world of fashion?
For different types of operations, such as, for example, the application of decorations on a fabric, but also for quality control of jewellery and accessories.
Is there an identikit of your typical customer?
It is necessary to start from the assumption that our cobots are compact and fairly light. They weigh at most a little more than 30 kg and thus, they can easily be installed on plants and in production lines and moved within them where they are needed. Cobots are flexible, easily programmable and reconfigurable, because unlike other robots, they use a very intuitive, user-friendly programming system derived from PC. Moreover, they can also be programmed in free drive, i.e. by moving the arm in the space along the movement path to be programmed and defining its fixed points: this makes their programming very simple and quick, even within the capability of operators with limited programmer skills. All these elements enable all enterprises, including the SMEs, to easily adopt our cobots.
This said, they also work very well in large-sized enterprises, where they are often adopted in support of industrial robots. For example, they are used for screwing car underbodies or for applications in traditional end-of-lines to replace humans in extremely repetitive tasks.
How will Universal Robots exhibit at RobotHeart? Do you already have an idea about the spaces, technologies and applications you will show at the exhibition?
We strongly believe in this project and therefore we have doubled the exhibition area we occupied in the past editions of BI-MU. We will present applications for metal, as well as for wood.
Cobots vs Industrial Robots? What are the advantages of the former compared with the latter? What are the future developments?
In most cases, solutions are not alternative, but complementary. The future is already here and, according to our sales data, we will increasingly have an integration between cobots and industrial robots in factories, for the benefit of the companies and their employees.