RobotHeart
Interview with Marco Pecchenini
STAUBLI
" …our strategy involves the participation in an exhibition every year in Italy and this year we had no doubt in choosing RobotHeart. It is a really high-profile project. Also for this reason, we will invite all our Italian and foreign system integrators, manufacturers and end users… "
Marco Pecchenini Director Robotics Italy STAUBLI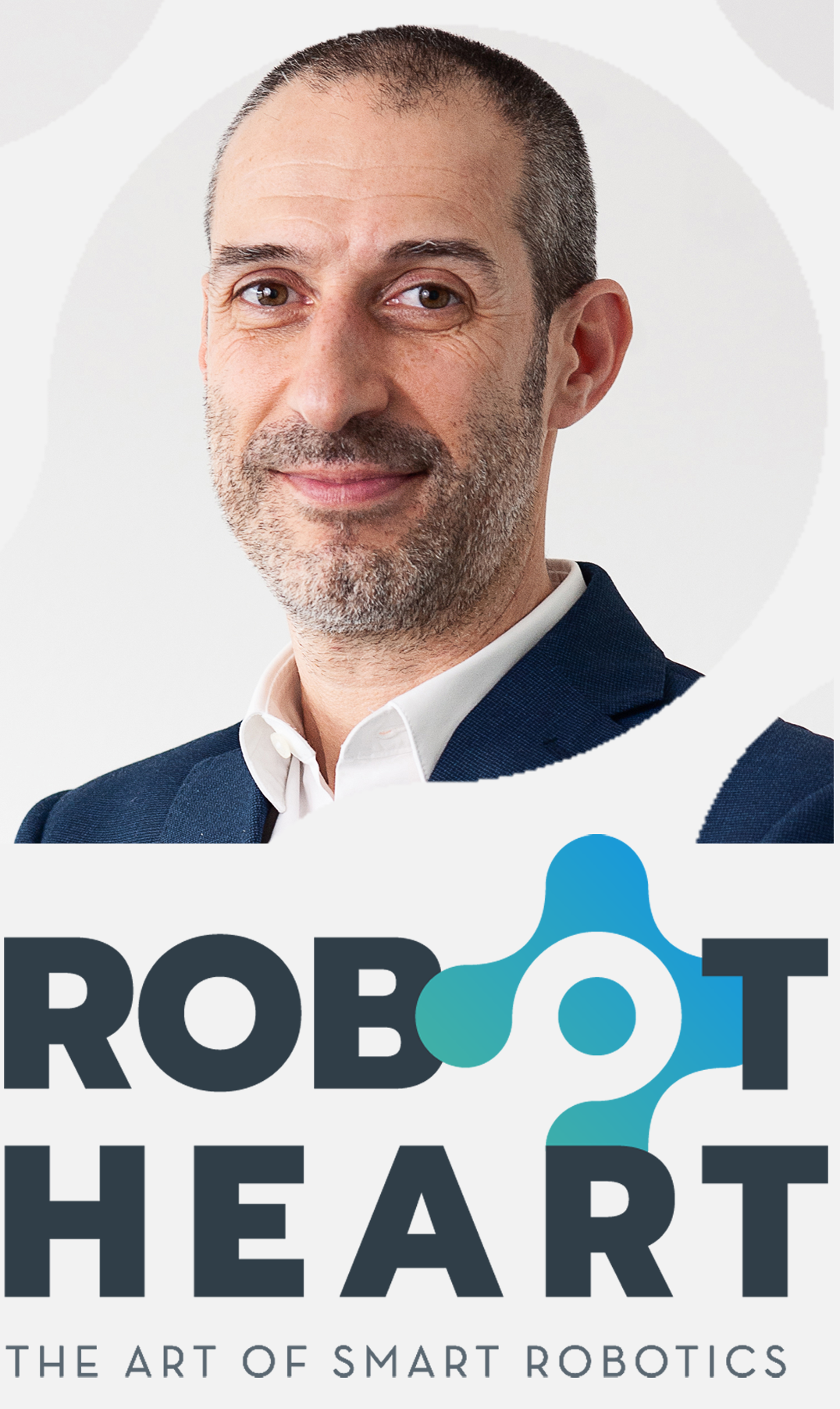 Staubli is a historic name and a recognised key player in the world of mechatronics. What are the features characterising your company in the eyes of the public that usually attends the biennial machine tool exhibition?
Established at the end of the 19th century, today Staubli is a multinational company with "Swiss soul and heart". Firmly anchored in its origins from Zurich, where there are still its headquarters, now Staubli has commercial offices and production facilities in 29 countries.
Activities are performed within three business units: TEXTILE, technologies for textile production, which introduced STAUBLI in the market at the end of the 19th century; CONNECTORS, electrical and fluid connectors; ROBOTICS, robotics and AGV (Automated Guided Vehicles).
Therefore, we are a very articulated company, considering both our geographical distribution and our product offering. These factors represent a high value-added for our customers, many of whom will be at BI-MU next October.
Very well. Now, let's talk about your robot offering, which is also the focal point of your participation in RobotHeart?
Staubli is recognised by the market as a primary player in robotics and industrial automation. A long time ago, we made a precise, very demanding choice: to offer our customers a comprehensive catalogue of solutions capable of meeting the enterprises' requirements for digital transformation, including robots, cobots, mobile robots and AGV, solutions for Industry 4.0.
The Research & Development activity is essential in a sector like this. How do you operate at Staubli?
Staubli has 5,500 employees in its branches all over the world. Among these, 600 are engineers engaged in R&D activity. However, apart from the figures which already give the dimension of the resources devoted by Staubli to designing, engineering and producing the most advanced solutions, it is the way in which this activity is carried out that makes the difference.
Our way of working on new solutions has always improved, with a further boost over the last 3 years and due to the change of some executives in our organisation. Our R&D Division is directly involved and works in close contact with customers. We intend to be real partners, capable of developing custom solutions, aimed at giving high value-added. Partnership is one of the most important and durable values in which we believe. This said, we are a multinational company and, for this reason, besides being able to meet the specific needs of particular and niche markets, we specialise in a large-scale production of our standard-range robots
How do you see the Italian market? What are the most dynamic fields of application?
Italy is experiencing an extremely positive moment: it is the second market in Europe for the automation segment and we boast one of the highest level of applied technology.
Thanks to the features of its products and to the developments driven by its partners, Staubli has defined two macro-areas of destination for its solutions: that of medical and pharmaceutical products and that of General Industry. The latter concerns all High-End applications, i.e. those with high technological content, where STAUBLI products stand out due to their value-added, (Clean Room, Cleaning, Laser Cutting, Food, Electronic Components)
Such an aggregate division of our sectors and customers is due to the fact that Staubli substantially develops its robotic solutions based on two fundamental points: highly advanced speed performances and motion accuracy and "Fully Enclosed" mechanical units, i.e. fully sealed units, which may also operate in extreme environments.
Severe environmental conditions may be those related to pharmaceutical and medical products, with extremely clean, aseptic and sterilizable areas, Clean Rooms up to ISO 2 levels, optics, electronics and semiconductors, as well as cleaning, machine-tending and the metal industry, where oil and powders are elements with which robots has to work daily.
As we can see from the trend of market demand, we are certain that in the future these robots will increasingly be used even in environments, where the above-mentioned standards are not always required today. The automotive sector and its transition to electric vehicles will be an example of that.
Robot vs cobot. What is the solution?
It is not possible to have a single, univocal solution suitable for all customers or for all situations. Staubli knows this well and therefore we worked hard on the development of a comprehensive catalogue including all typologies of robots, as requirements vary not only from customer to customer, but also from environment to environment. Industrial robots, mobile robots and cobots may operate together in a production site, as well as in a production line.
Moreover, with regard to cobots, we devised a really interesting solution, which – when there are no operators in an environment – is able to operate like an industrial robot, thus with fast and repeated movements that are typical of automated, high-volume manufacturing, and to slow down its pace when it operates beside an operator, thus acting as a collaborative robot. To be able to achieve the performances of a standard robot enables to implement hybrid solutions involving a Human-Robot interaction, as well as high-volume manufacturing when the operator is not present.
Nowadays and even more in the future, the ability of an automation system supplier will also and mainly be measured based on the capacity to integrate all solutions in the best way, thus creating projects capable of ensuring the highest productivity and efficiency for the customer.
Let's talk about your participation in RobotHeart. What will you exhibit?
Staubli is a long-standing exhibitor at BI-MU. After our participation in the 30th and 31st editions, we did not exhibit at the 2020 edition troubled by the pandemic, but now we are again present, seizing the opportunity to take part in the new area dedicated to robotics.
We have booked a rather extended area, in which we will obviously show our solutions for the General Industry – the industry typically represented by the visitors of the exhibition – as well as several AGV and AMR units (Mobile Robots), IoT solutions and applications that will highlight performances.
What do expect from RobotHeart and who will you invite?
We expect a lot, considering that our strategy involves the participation in an exhibition every year in Italy and, this year, we had no doubt in choosing BI-MU.
For a long time, Italy has waited for an event of international importance dedicated to robotics. This time, also thanks to the synergies between UCIMU-SISTEMI PER PRODURRE and SIRI, this is really a high-profile project. Also for this reason, we will invite all our Italian and foreign system integrators, manufacturers and end users. With regard to customers, the list will include both Italian and foreign companies. Indeed, we would like to make the most of this occasion.